One Important Tradition the 'Wolfhounds' Will Carry on During the Army-Navy Game
Military.com | By Blake Stilwell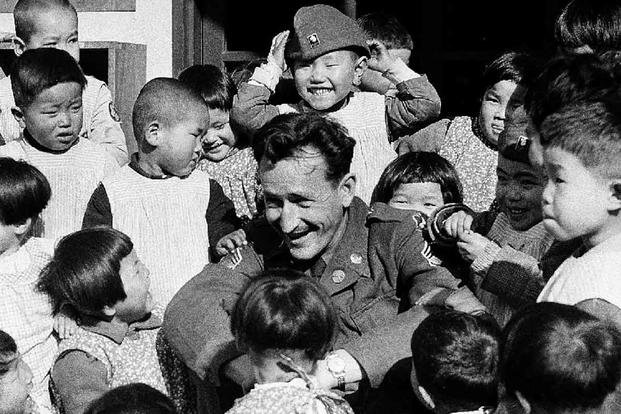 When Army takes the field against Navy Dec. 12, the team will be wearing a uniform inspired by the 27th Infantry Regiment, also known as the 'Wolfhounds.' The storied unit has a history dating back to the 19th Century, earning its nickname while fighting Bolsheviks in Russian Siberia. It has since served in almost every American conflict since World War II.
The Wolfhounds are being recognized for their valiant stand against a North Korean onslaught at the Pusan Perimeter, a stand that kept U.S. and South Korean forces from being driven into the sea.
Read: Army's Uniform for Army-Navy Game Inspired by Wolfhounds of Korean War
Drew Meyerowich, a former Wolfhound commander and West Point old grad, wants to recognize a tradition that has less to do with combat and more to do with the heart of the unit.
Meyerowich is organizing a Zoom viewing of the 2020 Army-Navy Game to raise funds and awareness for orphans in Japan. That's a fundraising project the Wolfhounds have been doing since 1949.
After the end of World War II, the 27th Infantry Regiment, assigned to occupation duty, visited the Holy Family Home orphanage in Osaka, Japan with the Red Cross. It was Christmas Day.
The soldiers saw the impoverished conditions in which the children lived, took up a collection on the next payday and donated it to the orphanage.
That charitable connection between the unit and orphans in that region continues to this day. The Wolfhounds regularly support children at the Holy Family Home orphanage through Peace-Bridge.org.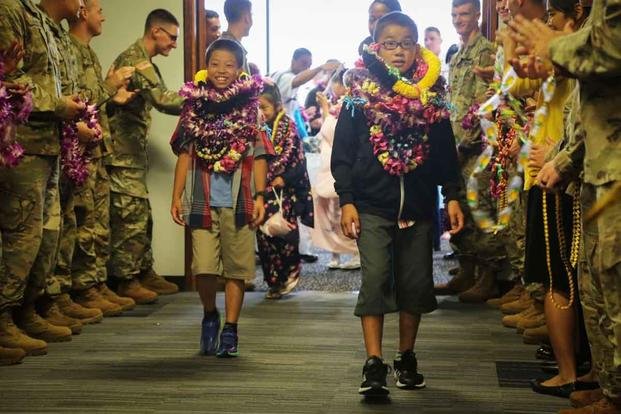 "Their support meant survival to the children and those caring for them," writes Sister Maurice, Daughter of Charity at Holy Family Home. "Holy Family Home has grown into the social welfare Institution it is today, caring for over 135 children and 40-45 infants who are not blessed with their own families to love and nourish them."
Meyerowich is a retired Army officer and 1987 West Point graduate who earned the Silver Star as a part of the quick reaction force that responded to the downing of two Black Hawk helicopters in Somalia in 1993. This event was depicted in the film "Black Hawk Down." He later commanded the 27th Infantry Regiment during the Iraq War.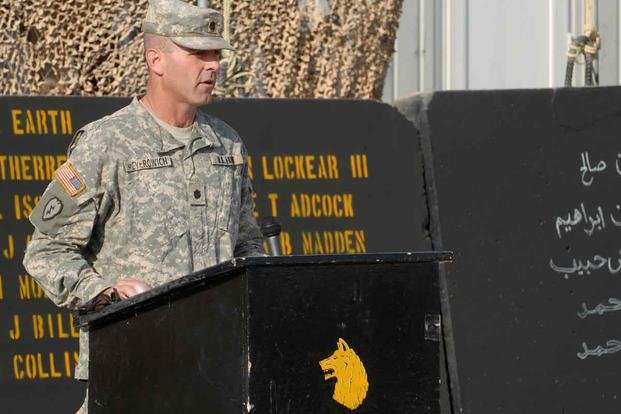 Today, he's a Kansas City-based executive and community leader, who maintains deep ties to both the Wolfhound veterans and their tradition of supporting the orphans of Holy Family Home.
Meyerowich is the President of Defense Logistic, LLC. When the ownership of the company learned about the Wolfhound tradition, they wanted to get involved in helping raise funds for Peace-Bridge.org.
When Army announced the 2020 Army-Navy game uniforms would honor the Wolfhounds, the means of raising funds became apparent. So starting in 2020, Meyerowich is organizing a viewing of the game for the orphanage, continuing the Wolfhound tradition.
"When the army announced the new uniform this year, the Wolfhounds got all riled up about it," says Meyerowich. "We're seeing the tradition and passion for the Army-Navy rivalry but we're also seeing the tradition and passion for the history of the Wolfhounds. We're going to tune in and watch Army kick Navy's a** but we're also going to see a legacy of compassion."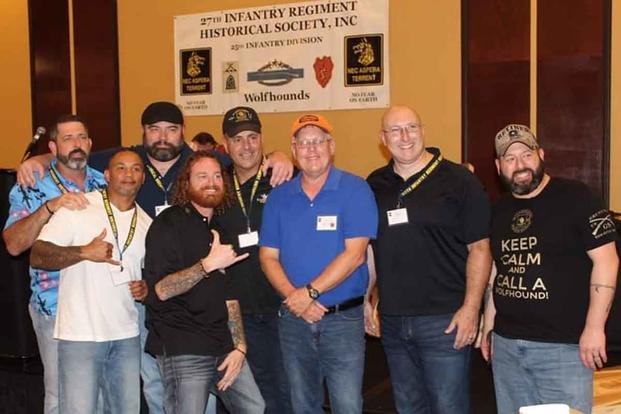 He plans to make the viewing and fundraising an annual event, not just for the Kansas City area, but for Wolfhounds everywhere. Whether they're based in Schofield Barracks, Hawaii or beyond, he will invite Wolfhound veterans to watch the game in-person (post-pandemic) or via Facebook and zoom.
"Next year, they [Army] are going to have a new commemorative uniform with some other unit on it," Meyerowich says. "But we think it's worth sharing our 71-year history of supporting Holy Family Home. It's bigger than one individual, one company, and that's the way we want it. The Army-Navy Game, the Wolfhound uniform, these things have collided and we can't just stop it after this year."
To learn more about the history of the Wolfhounds and their charitable efforts toward the children of Holy Family Home, visit Peace-Bridge.org. You can also "Pass the Hat" like a real Wolfhound by visiting the orphanage's GoFundMe site.
— Blake Stilwell can be reached at blake.stilwell@military.com. He can also be found on Twitter @blakestilwell or on Facebook.
---
What Army-Navy means to a 1987 West Point graduate
The Black Knights' uniforms makes this year's game a little more special for Retired Col. Drew Meyerowich.
againstallenemies.com | By Kaylah Jackson | December 10, 2020
Drew Meyerowich and fellow Cadets senior year right before graduation at West Point – May 1987 (drew is third from the right) Courtesy of Drew Meyerowich
Throughout the year, students and graduates of the service academies work alongside one another. They understand the challenges and rigor of what it means to attend their respective institution and they also understand the call to serve.
But one particular week out of the year, those niceties are put on the back burner and the something else takes center stage. Alumni of these schools go on to dawn the uniform of the nation's military, they might travel overseas, they may even have run-ins with their old classmates, but something that brings them together year after year is the Army-Navy game.
Retired Army Colonel Drew Meyerowich is a 1987 West Point graduate and staunch supporter of Peace Bridge, a non-profit that honors the legacy of the 27th Infantry Regiment. He's also a former commander of the Wolfhounds. We spoke about what Army-Navy means and why this year's uniform unveiling meant something special.
This interview has been edited for length and clarity.
Q: Before starting out at West Point, what was your understanding of the institution and what drew you there?
A: It really goes back to my father, a retired cop from New York City. I knew about West Point as a young kid. If you asked me "Why I wanted to go to there since I was in second grade?" Probably, in second grade, I thought the uniforms were cool.
One of my favorite sayings about West Point, especially in the catalogues, was "The history we teach is made by the people we taught." That's what sort of drove me to this, about leadership, and sort of service to our nation.
Drew with his wife of 32 years, Susan Courtesy of Drew Meyerowich
Q: Once you arrived, obviously getting acclimated to the culture and playing football was I'm sure a challenge. What was it like balancing sports and academics?
A: Everybody has to play sports. You had requirements to play sports every single semester. So you know, Division I football, you're working out pretty heavily plus you have this huge academic load.
Q: So you understand the plight of those players on the field then, from a physical and academic standpoint. Years after graduating, what is it like now watching Army games as an alumnus?
A: Last year, before all this crazy COVID stuff, you know, my 30th anniversary at West Point was the first reunion I got to go to. It was just awesome to see classmates and to realize the magnitude of what they're doing — from CEO to Senator, some in the Army and some not.
After that, we all just started getting together and it was an awesome experience for me. We went to the Air Force game and we got our asses beat, which bothered me, but I sat right next to the Air Force Corp of Cadets. It was the 50 yard line, it was perfect, and when you look at these kids, you don't realize how incredibly blessed we are to have so many incredible young men and women that are willing to serve that are wickedly smart, incredibly, talented.
Q: And Army-Navy of course, being the pinnacle football game of the school year. Has that significance for you changed since you've became and alumnus?
A: The Army-Navy game to me is just a traditional thing. We're all very competitive and this one week of the year we're tough on each other. But the rest of the year, we're brothers and sisters who would lay down our lives for each other if need be in combat. So, you add all of that, then these traditional things that people see that people see as the rivalries between regular colleges, but it's a bit different from the military perspective.
For me personally, when you add this year's recognition of the 25th Division — and I know its about the division — but when you look at everything that's on that uniform, it's about the Wolfhounds, and my unit that I commanded in Iraq for 15 months. It went from just your tradition to a purpose.
Q: And so that's a major way that this game creates an even more personal connection for you?
A: My purpose when you understand that Wolfhound traditions, specifically tied to not only the Medal of Honor recipients and all of the things in battle, but specifically our relationship with the Holy Family Home Orphanage — which is a 71-year tradition and the nonprofit that has been establish since the passing of Sergeant Major Hugh F.X. O'Reilly, that has changed the game this year — to me — to something really big.
The Corps is also learning things about my regiment. I say "my regiment," [because] 'm honored to be part of it and some of the people they're learning about, I knew or I knew when they were alive.
Drew (center) and fellow troops in Iraq – 2007 Hawija, Iraq Courtesy of Drew Meyerowich
Q: You having a tie to the history of the Black Knights uniform, does that make the competitiveness between Navy stronger than ever?
A: It's been a rough couple years as an alum. Two years ago we won. During the [Iraq] war, things were rough for us. Not winning was not something that's never been drilled into us. That's why there is such a feverish pace to our rivalry with the Navy for one week.
I lost four Navy kids in Iraq on my 15th month deployment — they were an EOD team that were attached to my battalion. They had a pretty rough time during Army-Navy week but they held their own. I chuckled at some of the craziness that went on on my base, but that to me is the Army-Navy game. The pieces that I remember as a young cadet both on the field and even in the stands, during the games in Philadelphia, honestly, are not that big of a deal in retrospect to these things that happen as an alum.
And I don't play down that. For the cadets, it is a lot about the rivalry. But the magnitude of that rivalry and the magnitude of the relationship between the service academies, you grow an awful lot of experience in the 28 years that I served in the military and understand how important we really are together despite this crazy rivalry we have.
2019 Wolfhound reunion, Drew (third, center from the left) with fellow troops from Iraq. Courtesy of Drew Meyerowich
Retired Colonel Drew Meyerowich graduated from the United States Military Academy at West Point in 1987 with a Bachelor of Science in Computer Engineering. He held various assignments including battalion commander of 2nd Battalion, 27th Infantry Regiment, 3rd Brigade Combat Team, 25th Infantry Division. He also received several awards during his military career including a Purple Heart, Combat Infantry Badge, and a Silver Star for his actions during during combat operations in Mogadishu, Somalia, on Oct. 3 and 4 October, following the crash of two Black Hawk helicopters, the events also known as "Black Hawk Down."